1969 Hot Wheels
HK - Volkswagen Beach Bomb - Rear Loader - RLBB (6274) - [1969]
RLBB - Rear Loading Beach Bomb Information




The Beach Bomb prototypes are die-cast metal chassis, Redline wheels, parchment colored interior, clear plastic windows with orange and yellow surfboards loaded through the rear window.

This car did not work properly through the Hot Wheels Supercharger. Its center of gravity was too high, and did not stay on the track well on turns. This resulted in the car being reworked making the sides wider and lowering the over height.



The Numbers - Whats out There??





A TLBB from the actual Blueprint
RLBB & TLBB
Grand Total = 43
Type1=25, Type2=14, TLBB=4

RLBB - Rear Loading
Count - Color


8 - Red
7 - Green
5 - Antifreeze
4 - Purple
3 - Zamak
3 - Rose
2 - Blue
2 - Light Blue
2 - Gold
2 - Pink
1 - Red Enamel


TLBB - Transitional Loading
Count - Color


2 - Antifreeze
1 - Blue
1 - Zamak





RLBB - Rear Loading Beach Bomb - Creation




The Rear Load Beach Bomb (RLBB) Tooling was created at Neward DIe & Manufacturing in San Bernardino County, California. This company was hired by Mattel with the responsiblty for creating most of the tooling for the first several years of Redline Hot Wheels. Plastic Injection Molding facilities also existed at this location and where used to run various Hot Wheel plastic parts. The bodies and chassis of the cars were actually made of Zamak (Zinc Aluminum Metal Alloy Casting), a metallic alloy. The Zamak Tools were shipped to A&A Diecast for running test shots.



Creation Time Line

Date
Part
Company
RLBB - Rear Loading
06-Feb-1969
Body
Mattel
Date 1st drawings completed.
11-Feb-1969
Body
Mattel
Date the Body drawings to be completed.
14-Feb-1969
Chassis
Mattel
Date the Chassis drawings to be completed.
23-Feb-1969
Interior
Mattel
Date the Interior drawings to be completed.
25-Feb-1969
Glass
Mattel
Date the Glass drawings to be completed.
All parts
Newards
Required at least 12 weeks to return a completed car.
10-Sep-1969
All parts
Newards
Revision A - Turn the RLBB into the TLBB/SLBB
21-Oct-1969
All parts
Newards
Revision B - Various dimension changes
17-Nov-1969
All parts
Newards
Revision C - Rear body lower, Rear window shorter, Rib added to interior
Oct-Nov-1969
Car
Mattel
Type 2 RLBB car with prototype SLBB base shows up (Pink #1)
2-Mar-1970
All parts
Newards
Revision D - Redesigned various for adapting Wheel Strip - don't think this was ever produced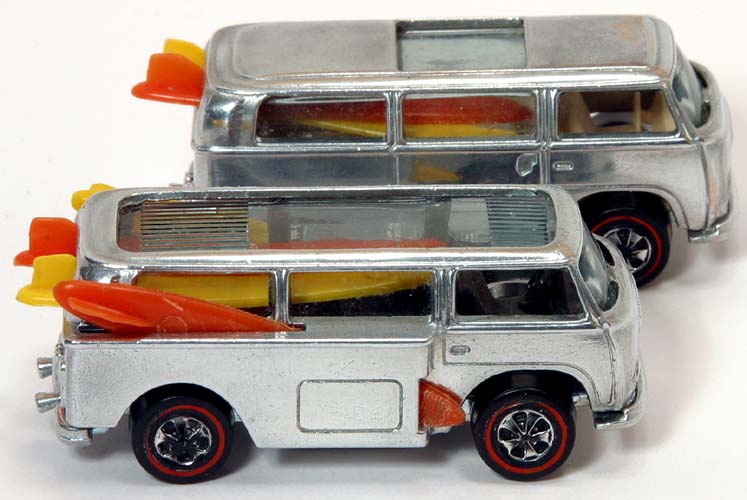 Home

|

FAQ

|

Site Map

|

Links

|

Sell-Trade

| |

Search

|
Copyright © 2023 www.HWProtos.com All rights reserved.
The pictures and descriptions on this site may not be reused without obtaining prior permission.
Hot Wheels are a registered Trademark of Mattel Inc. This site is not affiliated with Mattel Inc. in any way.